A breath of fresh energized air for your indoor environment.
The Ojas® EcoBionizer AERSwiss Pro is a Swiss-made, 4-step air treatment system designed specifically for the modern environment. Utilizing revolutionary, patented technology, the Ojas® EcoBionizer AERSwiss Pro powerfully filters, purifies, ionizes, and energizes your home and office air.
Indoor air pollution is a very serious, yet often overlooked problem. Invisible pollutants in the air put us at higher risk for a wide range of health conditions, in addition to affecting our sleep, productivity, thinking, and mood. Many people are aware of air pollution in the general environment, but did you know that according to the United States Environmental Protection Agency, your indoor environment could be 2-5 times more polluted than the outdoor environment around you. Clean air is essential for everyone, especially for you and your loved ones!
Air also needs to be more than just clean. It needs to be vital and energized, similar to what you experience in nature. Imagine taking a deep breath of air in your home or office, and experiencing the air that you would breath standing on top of a mountain, in a forest, near a waterfall, or at the beach. The Ojas® EcoBionizer AERSwiss Pro provides this natural air experience that is not only healthy and clean air, but vital air, filled with life energy.
Do you want to buy?
Write Us!
Health Effects of Air Pollution
Effects attributed to short-term exposure
Acute symptoms (wheezing, coughing, phlegm production, respiratory infections)
Irritation of the eyes, nose and throat
Headaches
Dizziness
Rashes
Muscle pain and fatigue
Daily mortality
Respiratory and cardiovascular hospital admissions, emergency department visits and primary care visits
Days of restricted activity
Work and School absenteeism
Physiological changes (e.g. lung function)
Inflammation

Effects attributed to long-term exposure
Death due to cardiovascular and respiratory disease
Chronic respiratory disease incidence and prevalence (infections, asthma, COPD, chronic pathological changes)
Chronic changes in physiologic functions
Pneumonia
Lung cancer
Chronic cardiovascular disease
Stroke
Intrauterine growth restriction (low birth weight at term, intrauterine growth retardation, small for gestational age)
Source: World Health Organization – Quantification of the health effects of exposure to air pollution. Report on a WHO Working Group, Bilthoven, Netherlands, 20–22 November 2000. Copenhagen, WHO Regional Office for Europe, 2001.
4-Stage Air Treatment System
Filtration
The Ojas® EcoBionizer AERSwiss Pro features a unique, 2-part filtration system, which includes a powerful electrostatic filter, followed by an additional, activated carbon filter. Thanks to the emission of ions, the filters are able to capture and remove from the air, solid impurities and fine dust particles up to a diameter of 0.1 micrometer (micron).
Purification
The Ojas® EcoBionizer AERSwiss Pro helps to break down and destroy allergens, harmful gases, bacteria and viruses in the air, effectively purifying the air in your home or office. Additionally, unpleasant odors and Volatile Organic Compounds or VOC's (which are caused by often dangerous chemical off gassing) are neutralized and replaced with more vibrant and energizing air.
Ionization
Developed from 40 years of air ionization innovation, the Ojas® EcoBionizer AERSwiss Pro simultaneously generates negative and positive ions in a precise ratio which most matches healthy natural environments, making your experience of the air feel like you are outside in nature. This patented Swiss technology precisely controls the ion ratio for maximum benefit for the people, animals and plants that inhabit the environment.
Energization
The key to the energization of the environment, in addition to the ionization, is the Ojas EcoBionizer core. This core increases the natural ambient energy produced by the unit, thereby contributing to the natural experience produced by the technology. Ojas technologies help to create an essential and reproducible field of natural ambient energy in environments via a superfine vibration, which flows in a coherent harmonious state.
Dual Acting Swiss-Made Precision Technology
What truly makes these products unique is the synergy of the 2 unique Swiss technologies: the Ojas EcoBionizer core and the Periso AERSwiss Pro.
Ojas Energy Systems are revolutionary technologies created to return natural ambient energy and a sense of harmony and coherence to your environment. Designed and manufactured in Switzerland for over 20 years, the Ojas technologies offer proven solutions shown to bring a natural feeling of ease and wellbeing to any modern environment. For over 40 years, Periso has been a leader and innovator in air ionization systems, developing several patents for air quality and air ionization control. For the first time anywhere, these two Swiss technologies are combined for an even more powerful environmental impact.
Think of the the feeling you experience when you are out in the woods and you feel the natural wind on your face. Or when you stand on the beach with your eyes closed at the ocean's edge, and can feel the raw power of nature around you. Now imagine that this experience is available to you inside your home or workplace! Ojas technologies help to return a natural state of being to your environment, affording you this natural experience in almost any indoor environment. There are many factors that influence this state, including the presence (or lack of) natural ambient energy, as well as the Energetic Bionomic state of the indoor environment. Through rigorous research and development, Ojas has been able to produce technologies, which can bring life-energy, inspired by nature to your home and office.
Bipolar ionization is a well-researched and utilized technology often found in schools, hospitals, airports, restaurants and many commercial and industrial air systems. While widely used in these areas, bipolar ionization has been relatively unused in residential and small office settings because of the high cost for the technology and installation. Through it's 40 years of development and innovation, Periso has been able to develop an affordable unit, available to all people, which can be simply taken out of a box, plugged in and immediately used to treat the air without the need of expensive technicians, or changing of your heating and cooling system.
Bipolar ionization simultaneously generates both negative and positive ions. The AERSwiss Pro units are unique in their patented control process of the bipolar ionization, making sure that the amount of positive ions and negative ions are most similar to the generation that occurs naturally in healthy outdoor environments. Some 'ionizers' only create negative ions, or even potentially high amounts of ozone. Although negative ions have been shown to have significant health benefits, when generated in this manner, they are out of balance with their naturally occurring state. The AERSwiss Pro bipolar ionization process ensures that you are able to benefit from the negative ions in their most natural, bioavailable, and impactful form.
Benefits of the Ojas® EcoBionizer AERSwiss Pro
Fine Dust
There is growing research regarding the damaging health, mental and economic effects of fine particle matter – PM 10 and even smaller PM 2.5. The Ojas® EcoBionizer AERSwiss Pro is highly effective at lowering this fine particulate matter so that you and your family can have clearner and less polluted air in your indoor environment.
Allergens and Pollen
The Ojas® EcoBionizer AERSwiss Pro is perfect for people who suffer from allergies. Units remove allergens, including pollen, dust and pet hair as small as 0.1 micrometers in size. You can breathe easier and sleep better with filtered and purified air free from these allergy-causing pollutants.
Odors and VOC's
No one likes bad smells in their house or office. Thanks to the 4-step air treatment system of the Ojas® EcoBionizer AERSwiss Pro, you are able to significantly remove unpleasant smells in your indoor environment. This includes VOC's (Volatile Organic Compounds), which are noxious odors from chemicals in the environment. VOC's can additionally be dangerous to your health and wellbeing. Not only can your air be odor-free, it can be safer too!
Mold
Molds are a growing problem for many people in indoor environments. The Ojas® EcoBionizer AERSwiss Pro can significantly decrease the amount of mold spores in the air. The real mold killer here is the ionization process, which goes to work in disinfecting and neutralizing dangerous particles in the air like mold spores. This works not only for the air, but also for exposed surfaces, like tables and walls as well!
Germs
No matter the season, the Ojas® EcoBionizer AERSwiss Pro will be working to purify your air and environment, killing free floating germs in your air and on the surfaces and walls in your environment. Effective in the reduction of ambient germs, your wellbeing will feel the difference!
Energy and Vitality
Everyone has walked into a room where the air and environment feels dead. Every space should have air which is fresh, vibrant and alive, just like your were standing out in nature. The units quickly and effectively increase the healthy ions in your environment by 1000% or more. Thanks to the combination of the Ionization and Energization processes in the Ojas EcoBionizer AERSwiss Pro units, you can bring this connection to nature into your home and office!
Product Features
Evolutionary Ojas Core – The Ojas EcoBionizer core features a proprietary mixture of mineral catalysts to enhance the beneficial negative charge of the ions in the environment. The core is then further treated with the Ojas Energy system to enhance the bio-compatibility and harmony of the environment.
Precision Swiss Technology – Utilizes proprietary carbon fiber electrodes to create the highest concentration of bipolar ions, which replicate the air most often found in healthy natural environments – mountains, forests, near waterfalls and beaches.
Low Noise – Operates quietly, at volumes somewhere between whisper and sound level what you may experience while at a library. It is also 30-50% quieter than a standard air conditioning unit.
Low Maintenance – Extremely durable and will work little to no maintenance. All you need to do is periodically change the easy to switch internal filters.
Durable Craftsmanship – Effectively works for many years or even decades with little to no maintenance.
Energy Efficient – Runs with minimal power consumption, lowering electricity and carbon footprint needed to operate it.
Beautiful Design – Combining Italian design with precision Swiss engineering, the Ojas EcoBionizer AERSwiss Pro is an aesthetic complement in any modern home.
Quick Acting – As soon as you turn on the Ojas EcoBionizer AERSwiss Pro, you will begin to feel a difference in the air. While a few hours may be required to totally decrease undesirable pollutants, the units instantly increase the levels of beneficial ions in the air and immediately go to work to rid your air of allergens, VOC's, molds, radon and odors.
Spacious Coverage – Available in two models, the Ojas EcoBionizer AERSwiss Pro Blue works in spaces 45-100 square meters, while the Gold models effectively works in spaces up to 60-180 square meters.
User Friendly – The easy to understand and use touch control panel features buttons to set unit speeds and levels for your desired effect in you indoor environment.
Ozone Free – The Ojas EcoBionizer AERSwiss Pro units do not generate ozone, and maintain a consistent level of bipolar ionization in the air.
Swiss Research and Quality – The Ojas EcoBionizer AERSwiss Pro is the culmination of over 60 years of Swiss research into air treatment, and environmental energization and optimization for biocompatibility. The Swiss-made units are the pinnacle of air treatment precision, and a dedication to durable and dependable quality. When it comes to the wellbeing of you, your loved ones and co-workers, you want this Swiss precision!
Two-Year Warranty: The Ojas EcoBionizer AERSwiss Pro has a two-year warranty on the device from the date of delivery in the absence of tampering or improper use by the end user.
Powerful ionization – The Ojas EcoBionizer AERSwiss Pro produces 250,000-320,000 ions per cubic centimeter at a distance of one meter from the unit. These ions then circulate throughout the entire environment getting to work to purify and energize your space.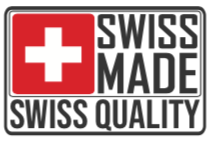 Retail price: € 2285,00
Do you want to buy?